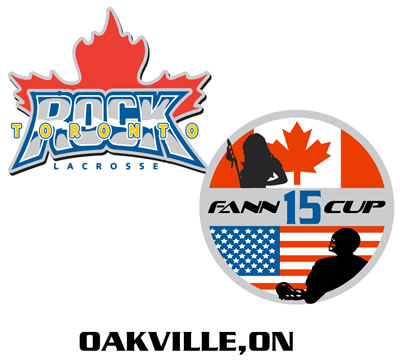 Oakville, Ontario, Canada
July 8-9, 2016
Fann Cup Tournament:
July 9, 2016



Toronto Rock Athletic Centre
1132 Invicta Drive
Oakville, Ontario L6H 6G1
Fann Cup rules
2016 TOURNAMENT RULES AND GUIDELINES
Tournament Schedule:
Click here for PDF
Registration party meet and greet:
July 8, 2016


Toronto Rock Athletic Centre
1132 Invicta Drive
Oakville, Ontario L6H 6G1

Registration will take place at the Major Series Lacrosse game between the Oakville Rock and the Six Nations Chiefs!!!
Post tournament party:
July 9, 2016
Location: TBA
Time: TBA
One banquet ticket is included with each player fee
Additional Banquet tickets may be purchased at $30/plate
Hotels:




Hoiliday Inn Oakville Centre
Rate is set at $124 CDN plus taxes and levis.
Rate includes full breakfast buffet for up to 4 people.
Block of rooms;
20 rooms Thursday
80 rooms Friday and Saturday
Please see PDF for hotel details!

Alternative accomodations:



RCC Oakville Sheridan College Trafalgar
$74.95 plus 13% tax
Group Name - Fann Cup 2016
Block of rooms;
10 rooms Friday and 10 rooms Saturday
$100 CDN - before June 1
$110 CDN - June 1 - June 30
$125 CDN - after June 30

Online registration is open, click HERE
Registration includes:
- Admission to the Fann Cup tournament
- A single seat at the Fann Cup Banquet
- Fann Cup t-shirt
- 2 Tickets to Friday night's Major Series Lacrosse game, Oakville Rock vs Six Nations Chiefs (registration meet and greet)
- 2016 Fann Cup pint glass (donated by Marcel)
2016 Fann Cup Charity:
2016 teams (potentially):
• Brigade (Buffalo)
• Cloverz (Chicago)
• Krewhawks (Rochester)
• Roadies (Toronto)
• Stingers (Minnesota)
• Spirit (various cities)
• Tutes (Toronto)
• Wingnuts (Philadelphia)
For more information on playing for any of the above teams, please contact the individual captains on the team pages.
Volunteers:
If anyone is going to Toronto and wants to volunteer to help with any of the game day items such as selling raffle tickets, 50/50, auctions, etc. your help is more than welcome and appreciated.
Please contact Donald