Toronto (Bowmanville),
ON
July 22-24, 20

11
More info can be found and questions can be asked
on the message boards
Fann Cup Tournament:
July 23, 2011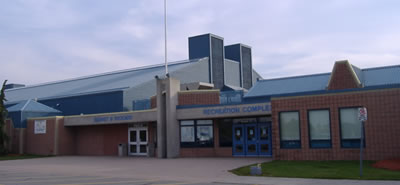 Garnet B. Rickard Recreational Complex
2440 King St. W
Bowmanville, Ontario L1C 3K7
(905) 623-5728 Phone
2 floors
Directions
2011 TOURNAMENT RULES (click for PDF)
FC11 - "The Minor Issue"
FANN Cup 2011 will be open only to people aged 18 and up.
NOTE: Minors (17 years of age and under) who have played in previous Fann Cups can participate in FC11 with the understanding that they and their team respect and meet the following guidelines:

MI-1. Each Minor has proper medical insurance coverage in place and presents proof of said coverage (documentation) at Fann Cup registration.

MI-2. The Minor's parent has given signed consent and is playing with their child on the same Fann Cup Team. This doesn't mean that parent and child must play on the same line, but it does mean they're playing together in the same game.

MI-3. All Minors playing must wear full box lacrosse equipment, including mouth guard.
MI-3.i. Optional: It is up to the discretion of the team if it wants their minors to wear pinnies to indicate they are young players.

MI-4. While it appears that there will be no increase in insurance coverage with minors playing, teams that field minors will be expected to cover any increases in insurance cost, should they arise.
See diagram of required equipment for all minors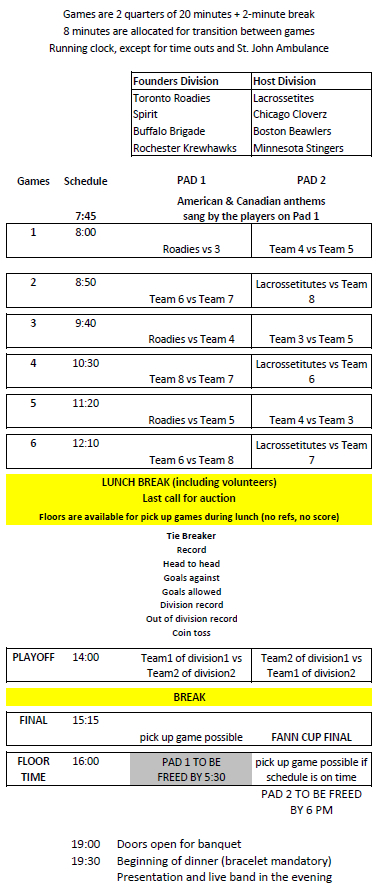 Registration party meet and greet:
July 22, 2011
Registration TBD

The Captain's meeting 6:30-7:00PM, location TBD

Post tournament party:
Location: The Ballroom at Quality Hotel Oshawa
- The banquet wristband is included with each players fee. Additional banquet wristbands can be purchased for $35 and is to be paid to your team captain in advance by TBD
- Silent & Chinese auctions and other items are in Cdn funds,
CASH ONLY (no credit cards)
- includes (details TBA)
- Schedule/times TBA
Hotel: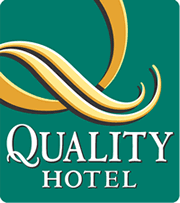 Quality Hotel Oshawa (formerly Holiday Inn)
www.qualityhoteloshawa.com
1011 Bloor Street East
Oshawa, ON L1H 7K6, Canada
tel: (905) 576-5101
fax: (905) 576-3296
MAP

$99/night + tax for double room.
Group booking code FCT
There is a block of 90 rooms.
Rooms will be held until 4 pm June 22nd 2011
Rate is available for 5 days prior to and 5 days after Fann Cup weekend


• $1,050 per team entry fee - team fee includes up to 15 players. Additional players are $70 CAN per player
• Additional players can be added at $70 each before May 22nd
Deadline for entry fee: May 22, 2011

• Team entry fee after May 22 - $1350
• Additional players can be added at $90 each after May 22nd
June 22nd is the end of registration and no more fees will be accepted for any player after that date.
PDF - OFFICIAL REGISTRATION FORM
• non player banquet wristband, $35 CAN - Deadline: TBD
Player fees include:
• Access to the games, teams will play 4 games minimum
• Banquet meal
• "goodies"
Banquet includes:
• Wristband for access to the banquet
• Meal
• DJ
• Fun and games (wheel of crap, toonie toss, etc)

2011 Fann Cup Charities: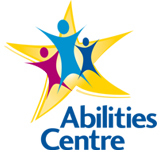 There are also Les Bartley pins that were donated and are on sale now for $5 each. All money from these pins will be donated to;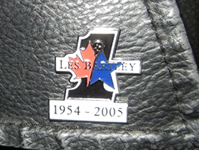 Contact Donald at fanncup.yahoo.ca for details on purchasing pins
Bartley pins were Donated by Danny Vu (promotional article supplier)
email dimex88@yahoo.com

2011 teams:
• Beantown Brawlers (Boston)
• Brigade (Buffalo)
• Cloverz (Chicago)
• Krewhawks (Rochester)
• Lacrossetitutes (Toronto)
• Stingers (Minnesota)
• Roadies (Toronto)
• Spirit (various cities)


For more information on playing for any of the above teams, please contact the individual captains on the team pages.

Volunteers:
If anyone is coming to Toronto and wants to volunteer to help with any of the game day items such as selling raffle tickets, 50/50, auctions, etc. your help is more than welcome and appreciated.
Please contact fanncup@yahoo.ca

2011 Fann Cup committee:
Roadies Reps:
Charlie S.
Donald D.
Gordie B.
Jarret H.
Scott R.
Scott M.
Tutes Reps:
Andrew J.
Karen A.
Murray B
Robin
Tammy B.
Tanya B.
Robynn D.


Things to do around Fann Cup:
Major Series Lacrosse (Senior 'A') Regular Season Games:
Ajax Rock at Brooklin Redmen - Wednesday, July 20th - 8pm. - Iroquois Park Sports Complex
500 Victoria Street West, Whitby, Ontario - 11.6 km. from hotel (7 miles)
Brampton Excelsiors at Peterborough Lakers - Thursday, July 21st - 8pm. - Peterborough Memorial Centre
151 Lansdowne Street West, Peterborough, Ontario - 74.4 km. from hotel (47 miles)
Brooklin Redmen at Ajax Rock - Friday, July 22nd - 8pm. - Ajax Community Centre
75 Cenntenial Road, Ajax, Ontario - 20 km. from hotel (13 miles)
Kitchener / Waterloo Kodiaks at Six Nations Chiefs - Sunday, July 24th - 7pm. - Iroquois Lacrosse Arena
3201 Second Line Road RR 6, Hagersville, Ontario - 171 km. from hotel (107 miles)

Other Lacrosse Playoffs:
The Senior 'B' Brooklin Merchants (Luther Vipond Memorial Arena, 67 Winchester Road, Brooklin, Ontario - 18.6 km. from hotel), the Junior 'A' Whitby Warriors (Iroquois Park Sports Complex), and the Junior 'B' (Clarington) Green Gaels (Garnet B. Rickard Recreation Complex - home of Fann Cup 2011) may all be deep in the playoffs this week...check for updates.

Toronto Blue Jays - Roger's Centre - 1 Blue Jays Way, Toronto, Ontario - 64.8 km. from hotel (40 miles)
Seattle Mariners at Toronto Blue Jays - Tuesday, July 19th - 7pm.
Seattle Mariners at Toronto Blue Jays - Wednesday, July 20th - 7pm.
Seattle Mariners at Toronto Blue Jays - Thursday, July 21st - 12:30pm.

Toronto FC - BMO Field - 170 Prince's Blvd. - Toronto, Ontario - 66.5 km. from hotel (42 miles)
FC Dallas at Toronto FC - Wednesday, July 20th - 8pm.

Other Attractions:
Hockey Hall of Fame - 30 Yonge Street, Toronto, Ontario - 63 km. from hotel (39 miles)
CN Tower - 301 Front Street West, Toronto, Ontario - 65 km. from hotel (41 miles)
Toronto Islands - 9 Queens Quay West, Toronto, Ontario - 65.6 km. from hotel (41 miles)
Toronto Eaton Centre - 220 Yonge Street, Toronto, Ontario - 63.9 km. from hotel (40 miles)
Niagara Falls - 188 km. from hotel (117 miles)